What is Endshake & How Do We Adjust It?
We're going over Endshakes for the gear train today. It's not an easy topic to go over without hawking over you in person. Out of everything I've seen, this is probably the simplest and direct explanation of endshake I've put out.
Here's a couple things you need to remember:
WHAT IS ENDSHAKE?
Endshake is the amount of play a part (train wheel, pallet fork, etc.) has between the upper and lower jewels that hold it. Endshake is determined by the play of the top and bottom jewel that holds the part in. Every single watch needs a proper amount of endshake tolerance in order for the watch to run optimally. 
TAKE A LOOK AT THIS IMAGE: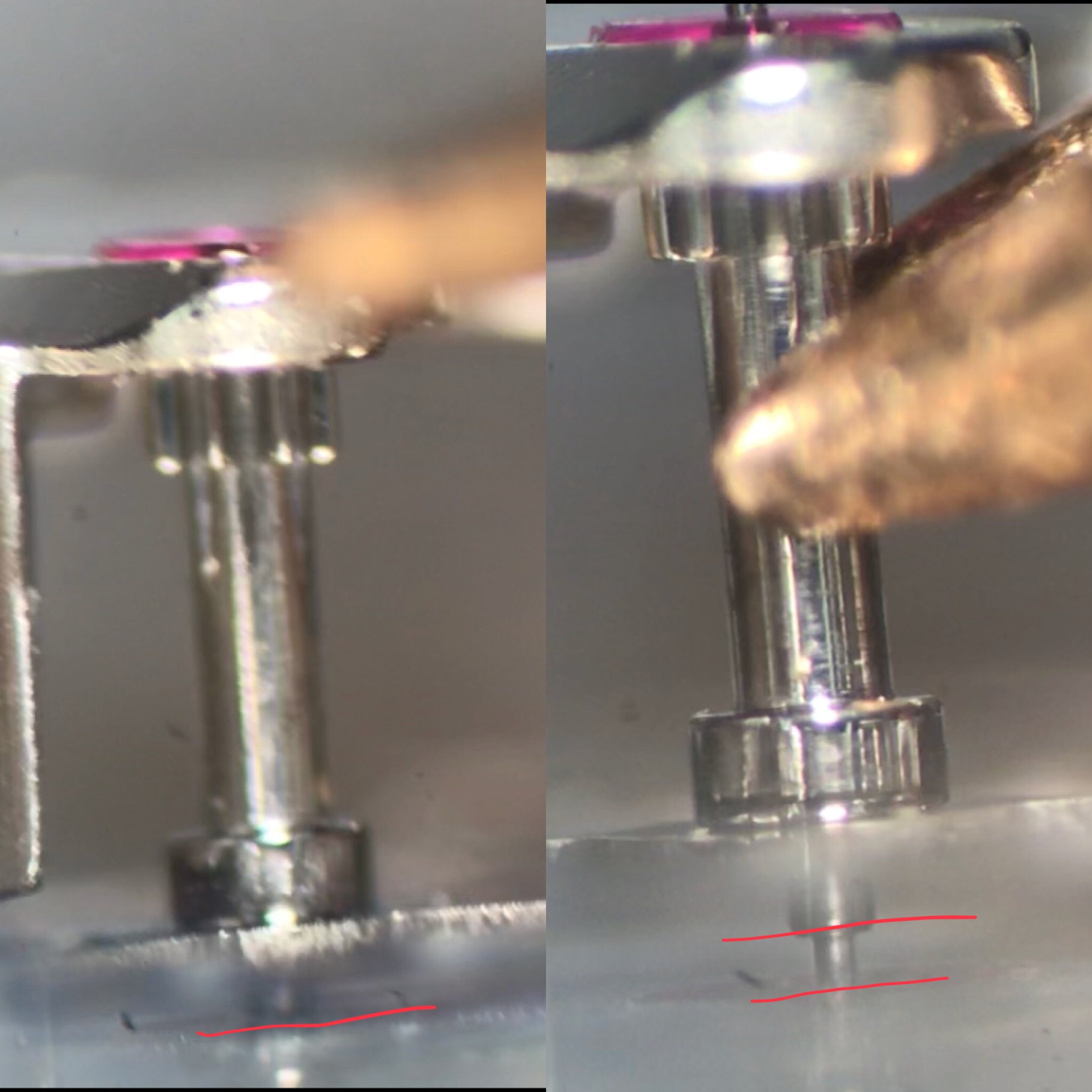 Take a look at the red line I've drawn at the bottom of these two pivots here. In the first picture, you'll see that I've drawn a red line at the jewel where the pivot goes in. This is our base line for how we measure endshake.
In the second picture, you'll see that the pivot is now lifted up. I've drawn a second red line to demonstrate the endshake/tolerance this specific wheel currently has. The distance between the first red line and the second red line is the amount of endshake this specific wheel has. This is how we check for endshakes for the gear train.
WHAT TO DO IF A WATCH HAS TOO MUCH ENDSHAKE?
Too much endshake will wreck havoc in a watch. It can/will cause a chain reaction to nearby parts and wheels. Too much endshake increases the odds of a part being displaced. If a part is displaced, good luck with your watch running.
Often times though, we'll see that too much endshake grossly affects the meshing of nearby parts. It's akin to a train track. If we make train tracks too wide, the train will not sync up properly with the tracks for it to run smoothly.
HOW DO WE ADJUST TOO MUCH ENDSHAKE?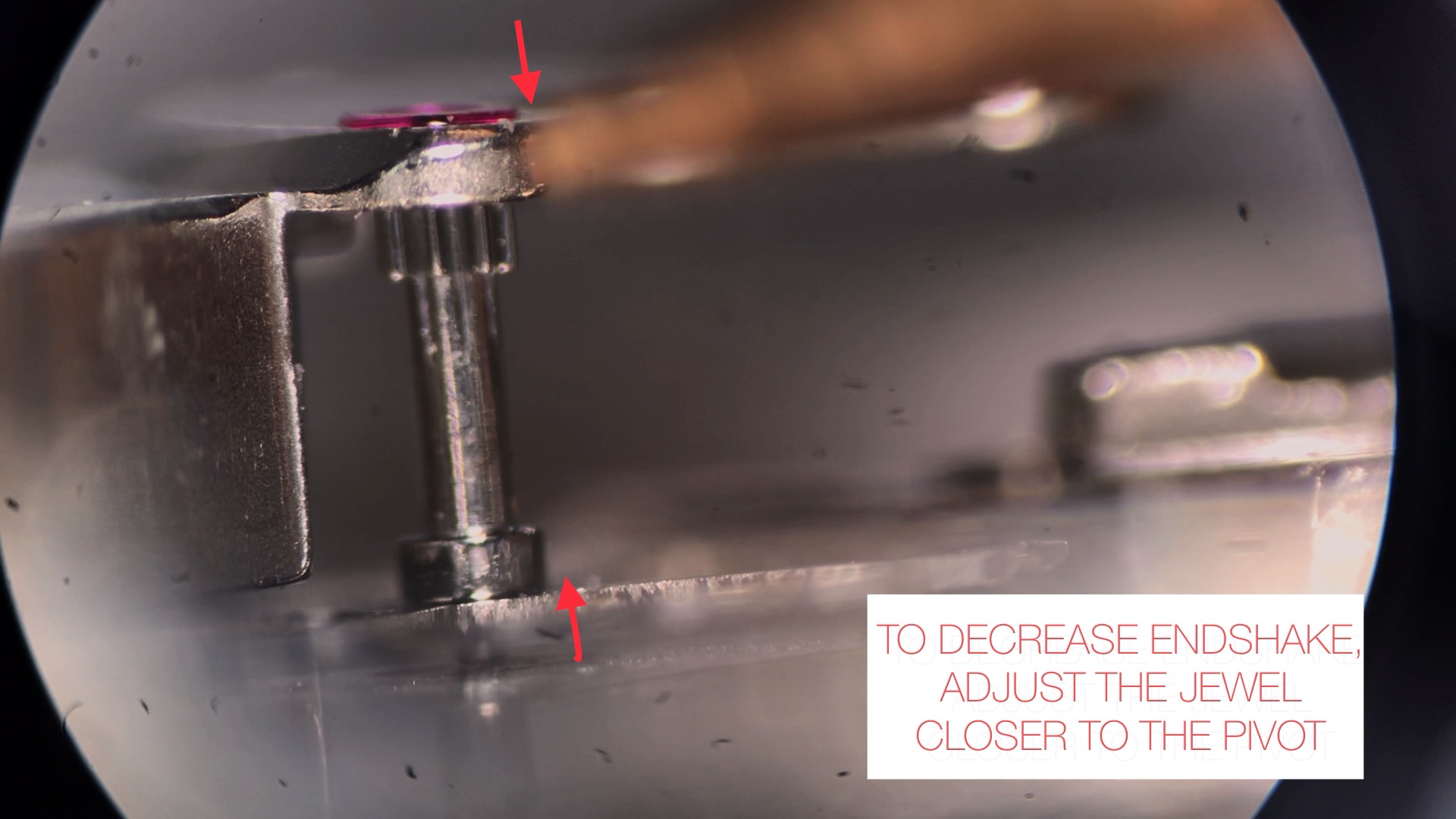 To decrease the endshake for a part, you need to adjust the jewels closer to the part in question. By adjusting the jewel closer to the pivot, you're closing the tolerance that the part has. So if you're adjusting the upper jewel, you're closing the distance between the upper jewel to the upper pivot (and vice versa for the lower jewel & lower pivot).
HOW DO WE ADJUST TOO LITTLE ENDSHAKE?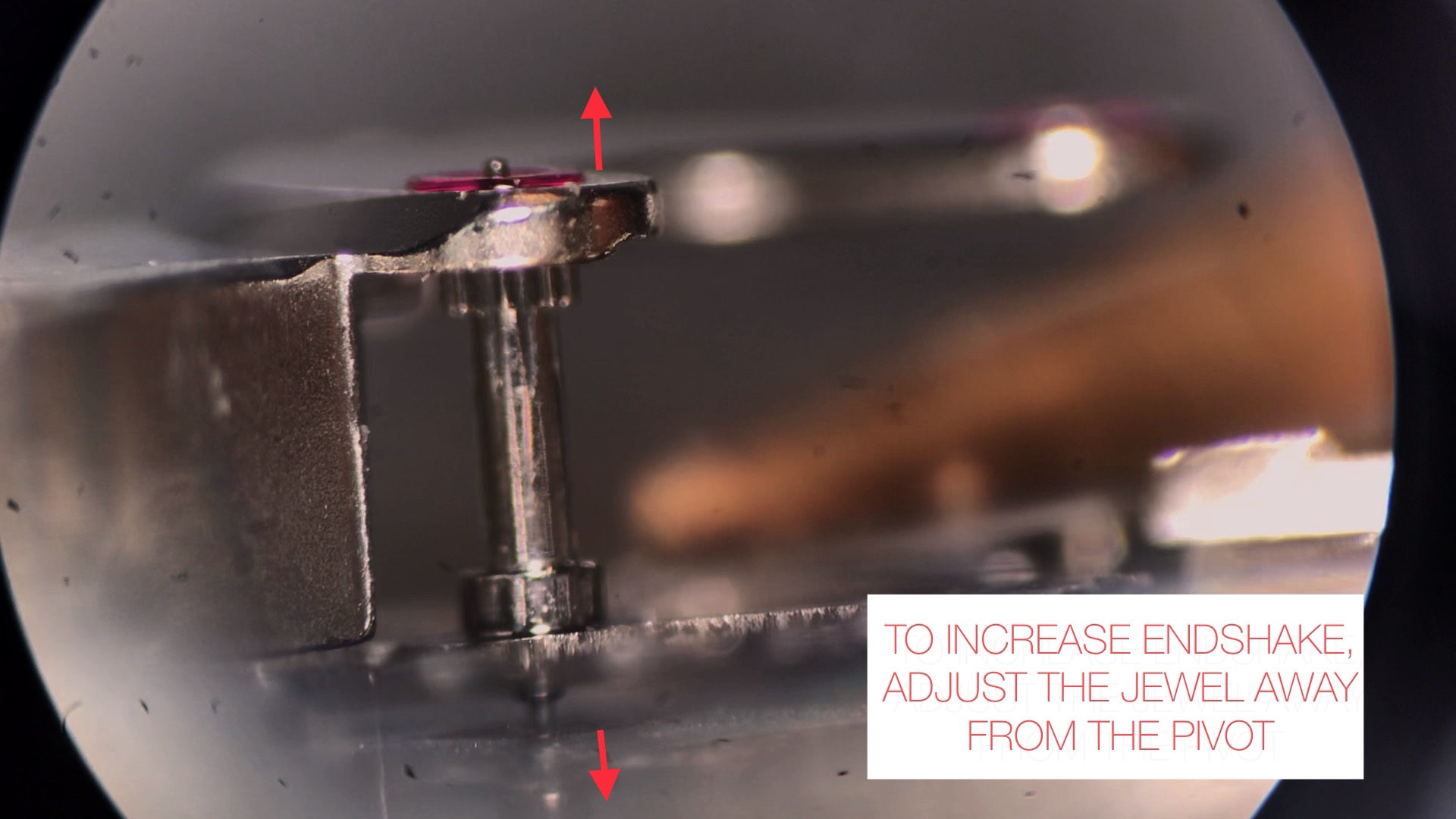 When a part has too little endshake, we need to increase the endshake or else the watch will have functional issues. To increase the endshake, we need to use the Horia tool to push the jewels away from the pivots. This effectively increases the distance and play of the pivots.